Professional, fun and energetic coaches are the Precise Racing's greatest asset. The right coach makes all the difference to your ski camp experience, which is why we have carefully compiled an all-star cast of experienced and certified coaches.
Our passion and dedication for coaching is limitless and our outstanding knowledge and expertise is making the coaching innovative and inspiring, helping skiers improve and reach their skiing goals.
Alongside our coaches we have pastoral and academic roles established for our alpine camps. These are key roles within the Precise Programme that allow us to operate smoothly and provide support to all our athletes throughout the season in their specific areas. Scroll down to find out more.
Emily Evans
Programme Director & Head Coach
At the young age of 2, Emily started her passion of skiing. She quickly progressed from learning into a solid skier with a desire to race. After a few years battling it out on the dry slopes she began competing on snow. Emily's talent was recognised and she represented the British Children's team where she was able to prove herself numerous times on the international stage. The highlights of which include the World Children's Champs and the Children's Olympics on three separate occasions.
Having entered FIS she joined the English Alpine ski team and proved herself again. The hard work paid off, next year she was selected into the British Junior Team and raced at the European Youth Olympics in Liberec 2011. After a successful racing career Emily chose to take her hard earned knowledge and use it to coach young skiers and develop them into keen racers.
Emily currently holds BASI Level 3 ISIA instructing qualification, Level 3 IVSI coaching qualification, Snowboarding Level 1, Level 3 Mountain safety award and a SSE Level 4 Officials badge.
Simone Del Ciondolo
U16 / U14 Alpine Coach
Simone is the lead coach for our U16 trainees. Having grown up surrounded by the Italian mountains, Simone learned to ski at a very early age. Taking to skiing very quickly, Simone was exposed to several local Italian races where he often achieved top 3 results.
As time went on, Simone was noticed by the Italian Federation and he was asked to join the National team. Whilst competing at a high level, Simone began taking an interest to coaching and started working at a local ski school to help fund his racing career. With the strict Italian system and only a few places available to represent ITA at Europa/World Cup events, Simone decided to transfer his passion to coaching. Simone has been coaching for us for the last 3 years and has become a valuable part of our team. 
Simone holds a BASI level 3 ISIA qualification, Level 4 EMS & Level 4 Teaching module.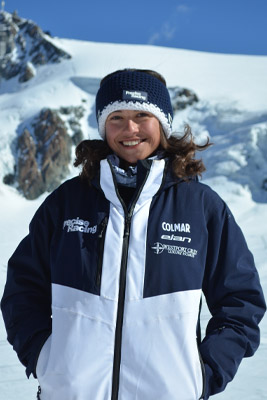 Megan Whitmarsh-Ali
Coach (Part-Time)
Megan has been part of our coaching team for a number of years and coordinates a large amount of our UK programme. Megan is hard-working, passionate and most importantly, has a caring and empathic approach.
Alongside our programme, Megan regularly coaches the local race clubs in the South East of England and has recently been appointed a Dry Slope Ambassador Manager.
With Megan's youthful, energetic attitude we are pleased to have her part of our coaching team.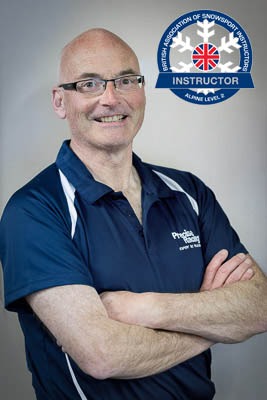 Jim Gibb
Coach (Part Time)
Our Scottish coach Jim brings a wealth of knowledge when it comes to skiing. Jim has been involved in the sport for over 25 years and has coached skiers who have reached British Team level.
Jim first got involved in ski racing through his two children, where they competed and trained on both, artificial and alpine surfaces. Jim began exploring the coaching side of skiing and whilst his children were still enjoying the sport, he could gain more knowledge and give back to their race club. Soon after, Jim realised his love for coaching and began coaching on a regular basis. When Jim isn't coaching, he competes on the 'Masters circuit' on dry slope, indoor and FIS World Cup tour in the Alps. Jim feels it is very important to continue competing as he thoroughly enjoys it but also he feels he can continue relating to the racers he coaches.
Tom Cherry
Strength & Conditioning Coach
Tom's passion for skiing started at a very young age on a family ski holiday. Utilising the local dry slopes, Tom began developing his skills by training and racing anytime he wasn't competing in swimming and hockey.
As a teenager Tom moved to Canada to compete full time on the FIS circuit to pursue his ski career. After travelling all around the world for a number of years, battling against tough competition and managing intense training regimes, Tom felt it was time to hang up his boots. Shortly after,Tom opened up a Personal Training and Sports Therapy studio in London and currently works with a range of athletes from all different sports. 
In addition to coaching on our busy weeks, Tom delivers our new Development Fitness Programme, primarily focused around improving and supporting our skiers to become well-rounded athletes.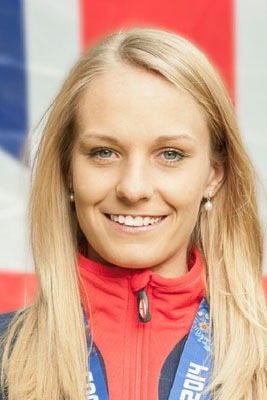 Charlotte Evans MBE
Team Ambassador
Charlotte started skiing aged 5 at a dry ski slope. Her talent was quickly noticed, as she became part of a race club that competed around the country. She only skied on snow for the first time aged 13 but within 2 years was selected to represent the England Alpine ski team.
Aged 17 Charlotte took the English Championship Title and was seen as Britain's rising star. However a knee injury on the slopes led to tragic news that she would be unable to ski for a year. During her rehabilitation period Charlotte studied Sport and Exercise Science at Brighton University. Whilst studying, Charlotte was approached to become a sight guide for disabled athlete, Kelly Gallagher. After 4 years of training and racing the pair later achieved Britain's first ever Winter Games Paralympics Gold Medal in Alpine skiing. To honour their success they both received an MBE, presented by Princess Anne.
Given Charlotte's wealth of experience, from starting at the grass roots of skiing and then reaching the pinnacle of the sport, Charlotte enjoys coaching and inspiring children to reach their goals.